WEB SOLUTIONS
DRIFT2 PROVIDES GROWTH-DRIVEN DESIGN OPTIONS FOR YOUR BUSINESS
Drift2 Utilizes Growth-Driven Design to Keep Your Website Trending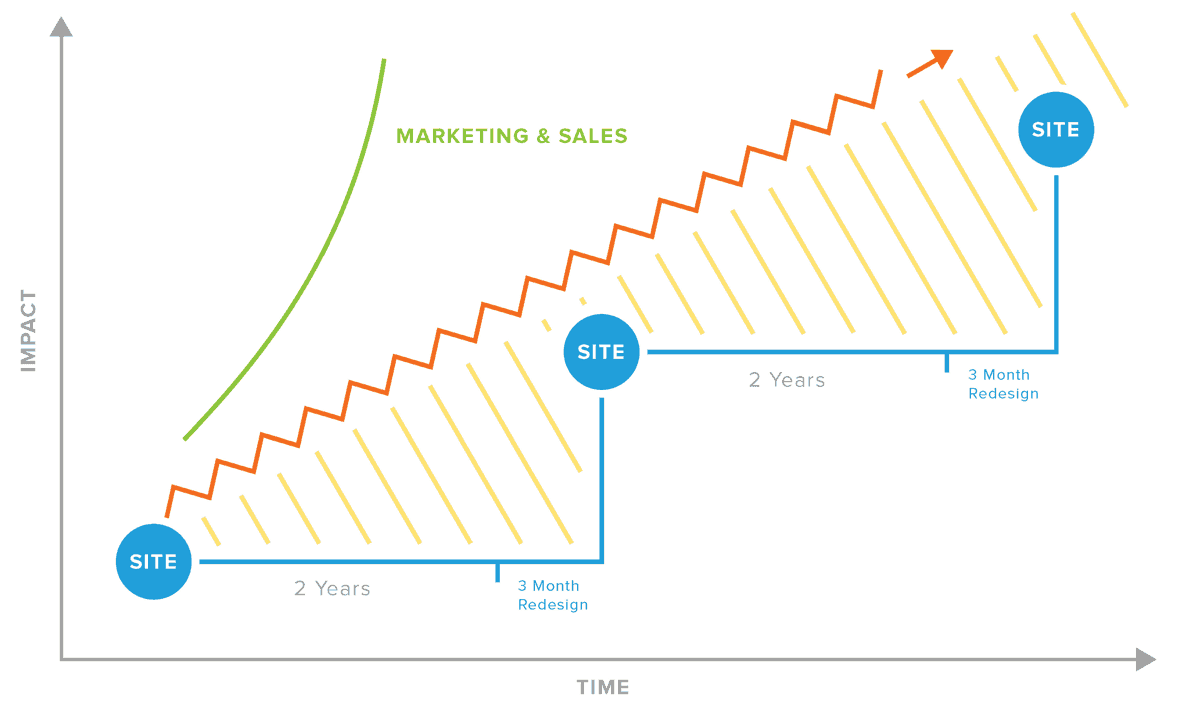 With static web development, when a site is redesigned it sits after completion. A few years pass, new design trends and search algorithms progress, the website redesign process is repeated. This process is reactive and costly, as every 4-5 years website redesigns are needed based on changes in technology and design.
Growth-Driven Design uses a proactive approach to constant development. This method of design allows for a continuous cycle of strategy, design, analyzation, optimization, and improvement.
Growth-driven design is a contemporary, smarter way to develop websites. Growth-driven design focuses on two stages of development crafted to save time and money.
We separate growth-driven design into the strategy and launch pad phase, and the iterative development and continuous improvement phase. 
Launchpad Phase of Growth-Driven Design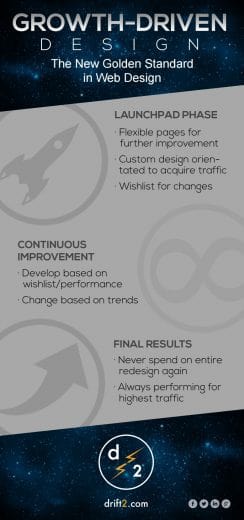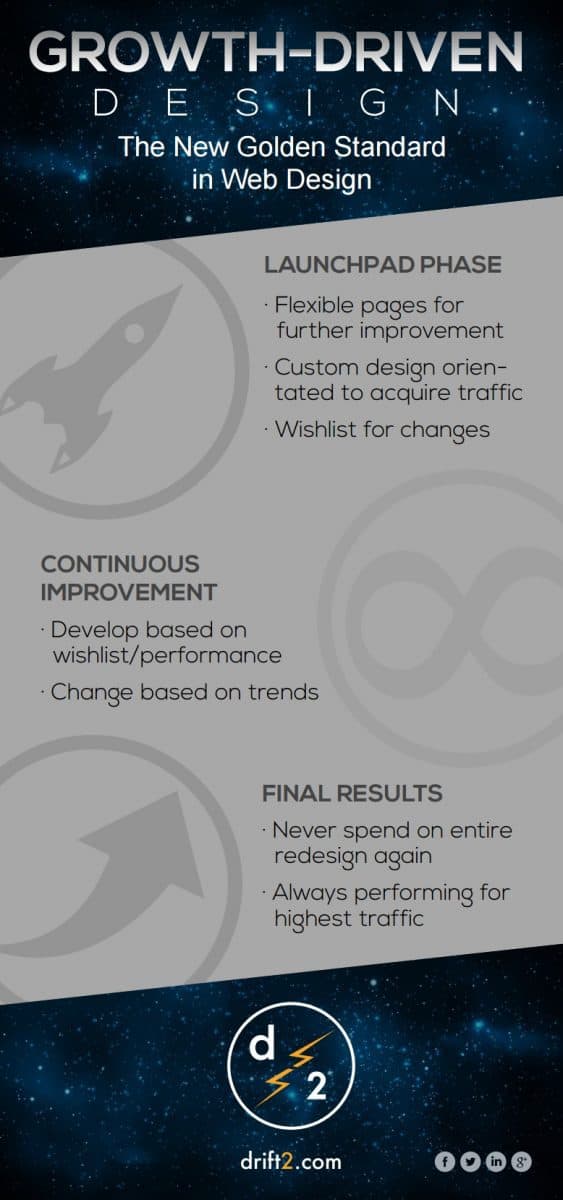 Both the strategy and launch pad phases of growth-driven design are similar to traditional website development. Drilling down deeper, growth-driven design focuses on intention — determining your requirements and long-term objectives. We then work on a strategy to determine how we can develop and deliver those goals for you.
Next, we audit how people are finding your site, develop a strategy to send more traffic to your website while reducing the bounce rates. We achieve this by implementing current trends, SEO tactics, and contemporary, easy to navigate design work. Afterwards, we form a wish list of potential improvements to increase the impact of the site — new modules, new design,  navigation features, integrations, functionality, or additional pages.
Iterative Development & Continuous Improvement Phase
The development and continuous improvement phase begins with the release of your launchpad website.
In this step of growth-driven design, we develop your site based on your wishlist and change according to your website's current performance. We continue to develop your site to ensure it is always operating at maximum efficiency. Growth-driven design allows continuous improvement– it grows as your business evolves.
Drift2's Growth-Driven Design Method
Drift2 Solutions will propose a plan, design and build a flexible website to accommodate future growth. Drift2 Solutions will discuss and develop a website strategy to ensure maximum benefit of search optimization, key personas, establish clear buyer journey paths and maximize conversion opportunities by implementing inbound marketing best practices.
• Launch Pad Website
• Flexible Homepage
• Flexible Interior Page Layout
• Custom Navigation
• CMS Blog Roll/Post Template
• CMS Landing Page Template
• Custom Branded Email Template
• Custom Form Styling
• 80/20 Wishlist Discussion
• Page Creation
• Basic SEO Implementation (Title, Keywords, Meta Description, Alt Tags)
A business needs a comprehensive website strategy and the services to attract, guide and convert visitors to leads. Drift2 collaborates with and offers consultation with every Client to identify specific SMART goals for the future success of the website:
• Specific – Real numbers with deadlines. Focused on a particular segment of the business
• Measurable – Identify a goal that can be tracked and measured.
• Attainable – A goal that is a challenge but isn't too far out of reach.
• Realistic – Based on an honest assessment of what can be achievable.
• Timetable – Has a specific schedule associated with the goal.
We will assess the website and give recommendations to strengthen organic search engine traffic flow and on page conversion goals. We then design and develop website pages, site landing pages and email templates, to maximize inbound lead and sales potential.
Interested in more information about Growth-Driven Design? Get in touch!